About Your Graduation/Marston Robing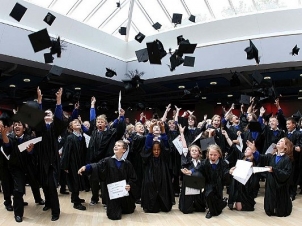 Excited Young Graduands after a Graduation Ceremony
Your Graduation is a business style of Marston Robing Limited, a company hiring and selling graduation robes and academic dress, as well as providing ticketing and photographic services.
Marston Robing Ltd was established as a Robe Maker for academic dress and graduation gowns in April 2005. Since then Marston Robing have grown steadily and have celebrated more than 14 years in business. The company has grown by being focused on providing academic dress of unimpeachable quality at reasonable prices hats together with an excellent, friendly and personal service.
The key objective is to make graduation as easy as process as possible for all involved be they graduands, guests, College/University staff, venue staff and, most particularly of course, the ceremony adminstrators.
Marston Robing understand that the graduand's achievement is a very personal thing and they treat everyone with whom they come into contact with respect and good humour.
Marston Robing also maintain an online shop for the sale and hire of academic dress and graduation robes, for people of all ages, which can be found at MarstonRobing.com.