Graduation Gowns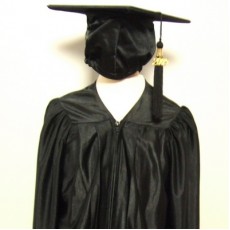 Typical Gown
The graduation robe you will be wearing is specific to the institution where you are graduating and there are many variations in the style, cut and colour of the gown you may be wearing.
The basic colour for undergraduate awards is black, although blue and grey are also possible. Many gown designs are based on patterns from Cambridge and Oxford, though others have a more continental influence. Higher awards such as Masters degrees and Doctorates often have different gowns, doctorates tending to be more flamboyant with many colours being used including red, blue and green amongst others.
Your Graduation takes great care over the manufacture of its graduation gowns and our seamstresses and gown makers have been selected personally by the directors of Your Graduation to ensure that the quality of the gowns is to the high standard we require.
All our gowns are made to the highest ethical standards and this has been confirmed not only by our own auditing processes but also by independent ethical audit authorities.